I'm not from Atlanta, but I live here, and (because I live here) people who don't live here ask me, "Creek, what's Atlanta really like?" I don't know what Atlanta is really like, but if you'd like to know what it's like for me, I invite you to sit back and enjoy another episode of "CREEKING MORE IN THE ATL (with your host Nate Creekmore)"!!!
[Okay With Trae]
In the city of Atlanta, it's that time of year again.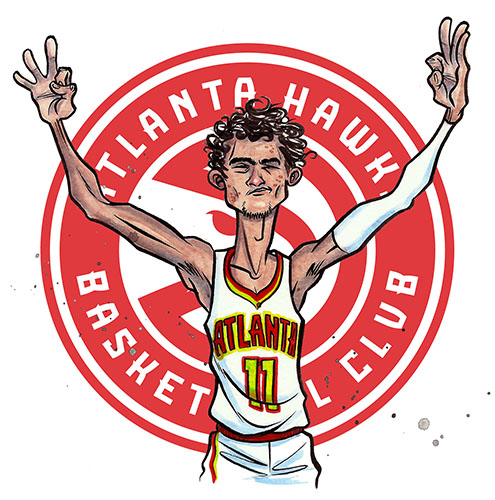 The Atlanta Hawks 2018-19 season. We don't have Durant or Curry or Lebron (or Kawhi or Giannis or Harden or Brad Stevens) so we needn't worry about winning a title. And having dismissed that particular expectation, we can instead preoccupy ourselves with the particulars of precisely what we, the Atlanta Hawks, are hoping to accomplish.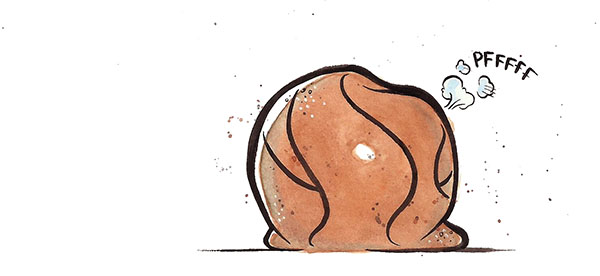 It's odd to say "we", yes? I, in spite of my loyal fandom, am in no wise affiliated with the Hawks organization. My opinions are neither consulted nor are they considered (and I have a considerable many opinions). Had I been consulted, I'd not have been in favor of the instantly infamous Luka Doncic For Trae Young decision of June 21, 2018. In fact, I was strongly, vehemently, emphatically opposed and outraged at the decision.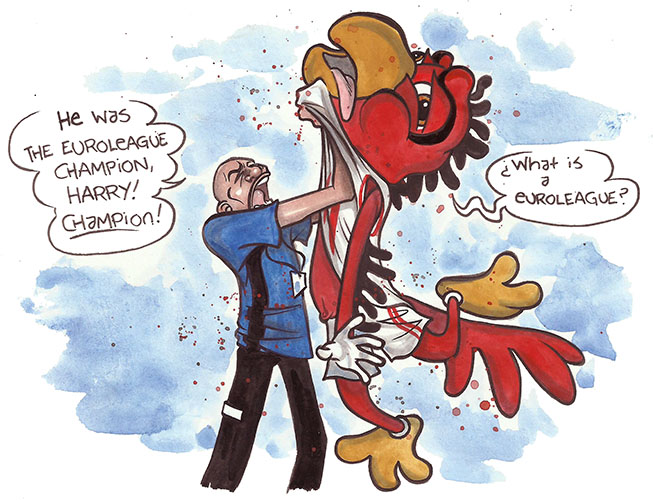 …but was my anger at all warranted?
Afterall, I watch no college basketball and I watch (somehow) even less European basketball. My belief in Luka as a basketball prodigy is based on hearsay, conjecture, word of mouth, and approximately two and a half minutes of Instagram footage. Nonetheless, I was upset. And my upsetness held fast and firm… until I watched a youtube video of Trae Young. Not a highlight reel of his on-court exploits, but an interview conducted soon after he was taken by the Hawks.
It's just… look, Trae Young is a youth, a child, really. He's a 19-year-old certified hooper who has spent the majority of his heretofore brief life in dedication to a game I enjoy (increasingly casually) watching. And when you watch the video you can see that Trae Young is nervous. And excited. And overwhelmed. And a kid.
As his dream of playing professional basketball in the National Basketball Association was coming true, me and many like me were expressing, in various ways, our displeasure.
I felt silly; a grown man angry at a kid for playing a game.
I'm done with that. Trae Young, who knows what he'll be. Perhaps he'll become a sensation, perhaps even a superstar. Perhaps he'll be a mediocrity, forgotten by all but those hoop heads possessed of the capacity and willingness to remember that which is, to all others, forgettable.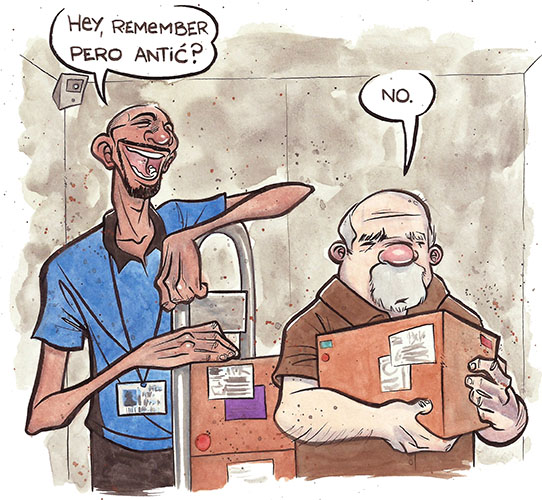 All I require of Trae is that he work hard, that he respect the game, that he steer clear of dogfighting or stripper-based scandal or any other such pratfall that would cause me to question why I bother to watch sports anymore.
At the very least, Trae has added an element of interest to a franchise badly in need of something interesting (and here I will admit to finding Dennis Schroeder to be a fascinating personality. He drove around the city in a golden car. A GOLDEN CAR. As far as I know it was actually made of actual gold. I wish him all the best in Oklahoma City. God speed, Dennis).
Trae will not be alone in his endeavors. On the contrary, he is now part of a merry band of ball players including the like of:
John Collins, he of the unnecessarily short shorts and boundless capacity for bounding.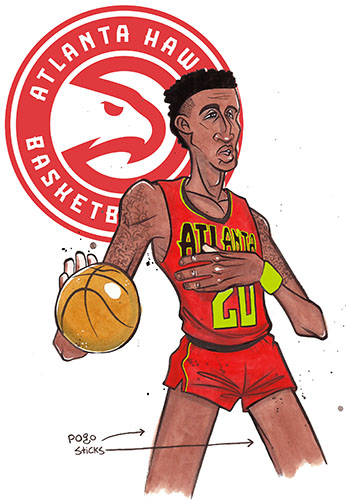 Jeremy "One Time I Gave Kobe All The Smoke" Lin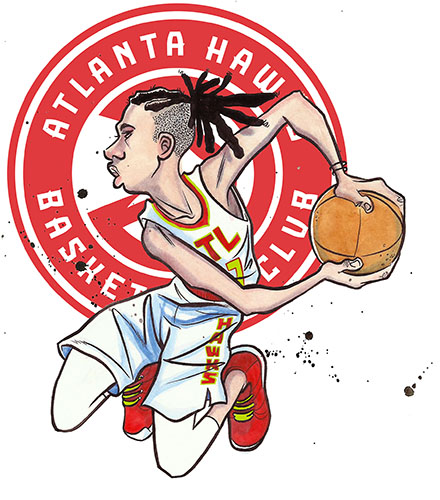 (Remember that time when Kenyon Martin looked at Lin's dreds and accused him of appropriating black culture? Remember how Lin responded by pointing to all the Chinese characters Kenyon had tattooed on his arms? I love the NBA.)
Kent "Probably Won't Be A Hawk Much Longer" Bazemore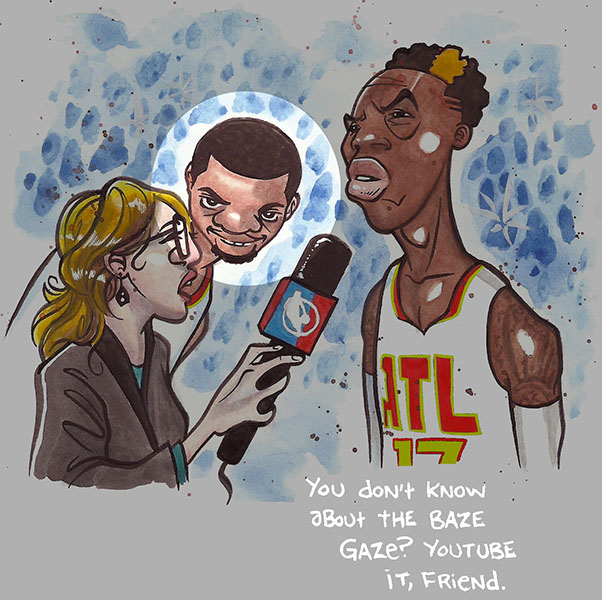 Kent Bazemore is the last remaining player from the single greatest season in Hawks history; a season wherein we won 60 games, sent four players to the All-Star game, were the number one seed in the East, shovelled Paul Pierce out of the Playoffs, and then got swept out of the Eastern Conference Finals by Matthew Dellavedova (may his name be accursed). That's what glory looks like in Atlanta, folks.
Taurean Prince is here for another season.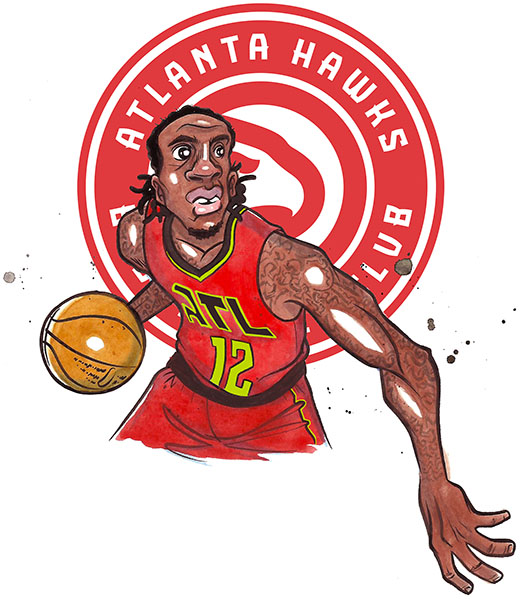 From what I saw last year, Taurean Prince is the best player on the roster.
Oh, and we have Vince Carter. The lazy comment here would be to mention his advanced age and diminished capacity, but 18 years ago at the NBA All-Star game I saw him do this: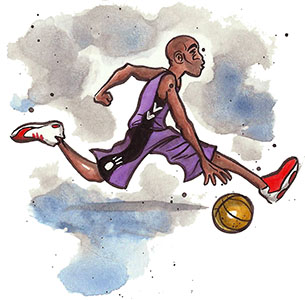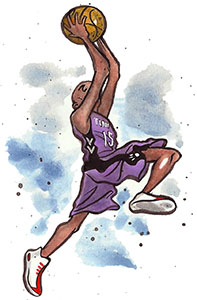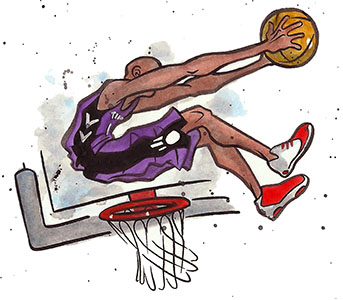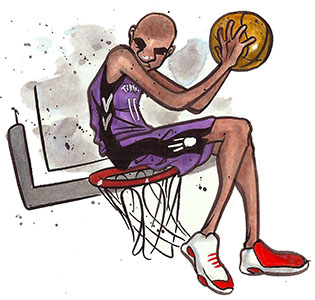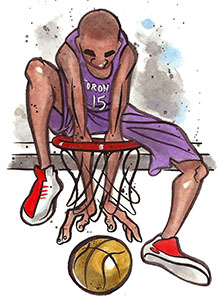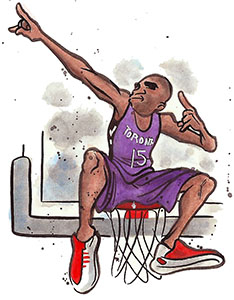 So yes, Vince is old. But please, show some respect.
The rest of the roster is filled out with several other players who have not endeared themselves sufficiently to be mentioned or depicted.
Now, let us all observe a brief moment of silence for the dearly departed Mike Muscala, Malcolm Delaney, Coach Budenholzer, and Dennis Schroder (he prefers, Oklahoma, that his name be pronounced "Shrooder").
We were the Highlight Factory. We were the Spurs East. Now, I'm told, we are to be the Wal-Mart Warriors.
*sigh*
…and yet, in the midst of constant change and varying levels of mediocrity, I can ever and always count on one man to lead us with a steady hand, my favorite Hawk, the voice of the Hawks (92.9 The Game), Steve Holman. Steve Holman, a man of such deep religious conviction that once, mid game, he implored Dennis Schroder to consider the divine compassion of our Lord.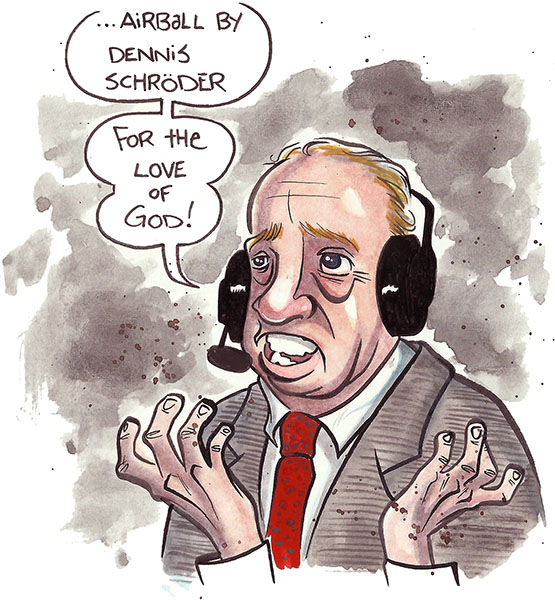 Let's go Hawks! Maybe we can win 30 games this season. 25? 20..?
Just don't move to Seattle.
There you have it foks, another exciting episode of "Creeking More In The ATL (with your host Nate Creekmore)"! Be sure and come back for the next installment wherein I will likely make no mention of anything of actual importance or historic interest.